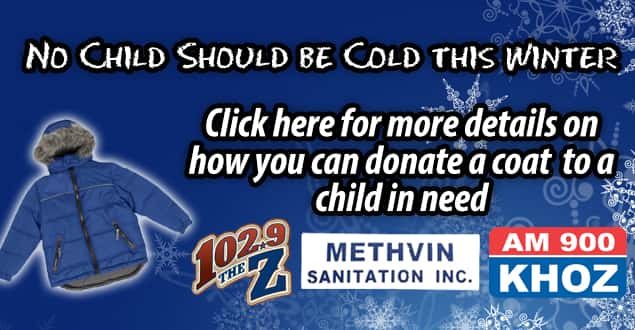 Methvin Sanitation, 102.9 The Z, KHOZ AM 900 and Quality Cleaners are teaming up to collect coats for our area youth.
No child should be cold this winter and you can help by donating new or gently used coats in all sizes to any of the locations below.  Quality Cleaners will clean the coats for us and they'll be delivered to area schools.  So, clean out your closets or stop and pick up a new coat or two and thank you for supporting our youth.
Your generosity is appreciated!
Drop coats at:
Methvin Sanitation
340 North Industrial Park Road
Harrison, AR
102.9 The Z and KHOZ AM 900 studios
1111 Radio Avenue
Harrison, AR
Quality Cleaners
708 Highway 62/65 North
Harrison, AR